Ideas don't sit in a cubicle or conform to a time schedule: they happen in a flash. When that moment comes, you must be equipped with the right tools to make the most of it. Just imagine what would happen if we were to remove the boundaries that constrain us to our desks!
The good news is, the future you imagine is already here. Enterprise, meet Microsoft Teams.
Microsoft Teams is a feature-rich unified communications service, designed specifically for the enterprise environment. From desktop to data center, it provides tight integration with all MS Office products, enhancing the entire suite with voice and video for the ultimate enterprise collaboration tool.
Not just a PBX replacement, Microsoft Teams is true unified communication. Some of the advantages of Microsoft Teams include:
Meet with people anywhere in the world: all they need is a phone or internet connection.
Full integration with Outlook, Power Point and Word for powerful collaborations.
Strong authentication and encryption mean that your communications are 100% secure.
Connect your teams.
Live data monitoring.
Messaging, meetings and screen sharing.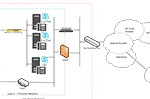 See what your future Microsoft Teams Topology could look like with our sample network diagram. Call today to find out more about Microsoft Teams, and how CCG Telecom can help make your transition seamless.